Diagraph Mini Roller Coder
A heavy hitter for lighter-duty applications.
Ideal for coding small or lightweight items, this coder is an economical option with a maximum print area 1″ x 6″ (25.4 mm x 152.4 mm) and prints as low as 3/4″ from the bottom edge of the carton. Uses DiLok type.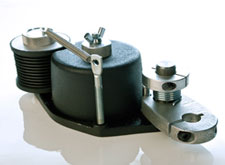 Diagraph SL/C Coder
Quick-change artist
Now there's no need to purchase a separate quick changer coder. Just purchase an extra die wheel for quick and easy changes in type. These friction-driven roll coders mount vertically or horizontally on your production line to effectively mark the side, top, or bottom of a carton – as low as 1-1/4″ (31.75 mm) from the bottom edge of the carton. Kits include DiLok type rings and friction bearers.